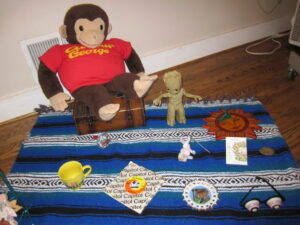 One of my favorite memories as a kid was the scavenger hunt. I think it was invented by parents who just wanted their kids out of the house for a few hours during a birthday party and, boy howdy, did it work! Armed with a random list of oddities, we formed teams and ran around the neighborhood knocking on doors, asking friends and strangers alike to rummage around their house for a red button or a grey left sock or a magazine picture of a pear. We'd cajole the neighbors out of their possessions, convene back home and declare a winner. It was fun and silly and, as a kid, I thought it was all about the competition and the glory of winning.
I can't imagine that happening in today's world. We've become insular and afraid and so risk-averse that even eye contact seems awkward at times. I'd love it if some of the neighbor kids rang my doorbell and asked me to rummage around my house to help them win a scavenger hunt. It seems our world isn't built that way anymore and that makes me sad.
So, I've been asking myself, what if I went out each day, and instead of gathering random things, I treated my interactions with the world as a way to gather goodness? What if I scavenge for the positive, the endearing, the beautiful, the heart-rending, the hug that needs to be given and the hug that needs to be received? Can I become a Master (or Mistress) of the Hunt with a list that evolves each day – full of new possibilities, new encounters and new adventures?
Here's my starting list (suggestions welcome!):
Pursue genuine smiles.

Find a laugh – bonus points if it's a belly laugh – extra bonus points if I get a group to belly laugh.

Discover someone's story.

Explore Nature long enough to gather strength from it.

Forage for beauty – in as many forms, places and people as possible.

Rummage through my insecurities to find the courage to try something new and scary.

Enlist a Purpose Posse, full of people that want to live life with more meaning and purpose.
What would the prize at the end of my life look like, if I take the time to scavenge each day? Would it be more fulfillment, more joy, more love?
I don't really know but I'm going to try. Besides, it sounds like fun.
What's on your scavenger list?